Latest Properties for Rent
Latest Properties for Sale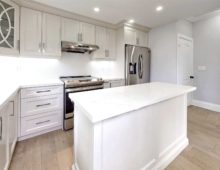 About me
If you're in the market to buy or sale a house, I can help you to achieve the maximum result!
I have had the opportunity of living in few places in North America such as Toronto, Vancouver and Southern California area in the past 30+ years!
In these cities, I have learned and experienced many different aspects of real estate trading. I studied Electrical engineering and later on Computer science at Ryerson University in the Great city of Toronto.
I offer you my 20 years of experience doing business in Greater Toronto Area.
Also, for my Chinese investors and my local winery sellers, I have extensive knowledge of wineries in Niagara on the lake region and I am always actively for sellers in this market!
Currently, I have my personal contacts in Mainland China for marketing exclusive luxury properties in GTA and wineries in Niagara region.
Beside GTA's real estate market, I have more than 10 years of experience in Southern California real estate market.
If you are listing your property with me, you can rest assure that your property will be marketed Globally and effectively!
My Services
Whether you are selling or buying, I will assist you in making the right decisions.
If you are selling:
I can assist you with a comprehensive CMA (comparative Market analysis) to find the Best price for your property. This is a Free service for all of my clients!
Provide professional marketing services to produce sales brochures, including photography, videos and online multi-lingual advertising.
I can assist you with staging your vacant newly built or resell property.
If you are buying:
I can assist you with financing sources (banks or private) and lenders.
Ensure all repairs are complete and satisfactory and provide lists of reputable repair businesses, inspectors.
Assist you with legal services referral for your protection and closing processes.Contact me today

Receive a FREE home evaluation
contact me today!